Ecotone – Sound Proof Enclosures, DG Set Sound Proof Enclosures and Acoustic Enclosures Manufacturer, Soundproof Noise Enclosures for Generator; Noise Canopy, Sound Proof Chambers, Machine Enclosure, Acoustic Enclosure for industrial Plants.
We "Ecotone Systems Pvt. Ltd." Acoustic Enclosures Protects Working staff near Noise Generating Machinery in industrial setting when noise limit exceeds OSHA limits for hearing safety. . ECTOCONE SYSTEMS provide fully customize enclosure for unique requirements that are an effective and efficient way to address these problems.
We "Ecotone Systems Pvt. Ltd." Manufacturing Acoustic Enclosures for various machines i.e. Sound Proof Generator Canopy, DG Acoustic Enclosures. DG Set Sound Proof Enclosures from 5 KVA up to 2000 KVA. Industrial Generator, Diesel Machine Enclosure. High-Efficiency Enclosure is made from the high-quality raw material. Canopies that are offered for generators that have specific design requirements and specifications. Compressor Enclosures, Turbine Enclosure, Sound proof Cabin, Industrial Acoustic Enclosure, Sound Proof Chambers, Machine Enclosure, Sound Proof Room, Industrial Noise Reduction, Heavy Machines Enclosures, industrial Noise Control and Combined Noise Enclosures for DG set. Acoustic Enclosures for Machines that is also known as Sound Pollution Control Equipment includes equipment like Acoustic Enclosure For Compressors, Acoustic Enclosures For DG Set, Sound Proof Booth, Acoustic Enclosure For Heavy Machine (CNC), Acoustic Enclosure For Turbines and Acoustic Enclosure For Heavy Machine (Tile Cutting Machine). Many other similar items are also created by Noise Enclosures Manufacturer within the industry.
The construction of Acoustic Enclosure panels are as per test conducted from Laboratory performance ratings for sound transmission class (STC) and sound transmission loss (STL) to indicate sound blocking / control capability through roof , wall and floor of acoustic enclosure . The inner surface of acoustic enclosure will be absorptive type and performance tested for sound absorption coefficient and Noise reduction coefficient (NRC) value within the acoustic enclosure.
Ecotone Systems Provide Acoustic Enclosures having noise transmission loss in full octave bands from 63 Hz to 8 kHz , STC Range for noise shield , STC – 40 to STC -60 , All used material will be non fire catching / fire rated .
All acoustic enclosures fitted with lighting, Proper Air Ventilation System, Insulated ducts and Residential silencers, Steel Structure support, Vision Panels to see through form outside the enclosure and finished in desired color shade.
Acoustic Enclosure Application
Machinery Sound Enclosures
Generator Acoustic Enclosure
Diesel Generator Enclosure
Sound Proof Control Rooms
Punch Press Acoustic Enclosures
Blower Acoustic Enclosures
Dynamometer Test Cells
NVH Test Chambers
Anechoic Chambers
Power Press Sound Enclosures
Construction Noise Barriers
Gas Compressors
Test Reports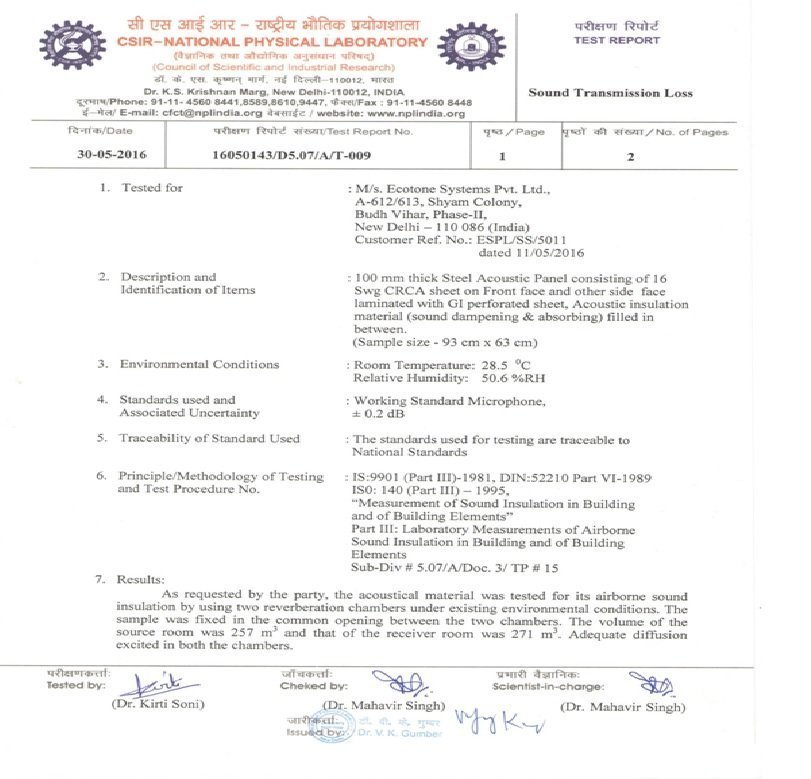 Test Reports